Saturday June 23 2012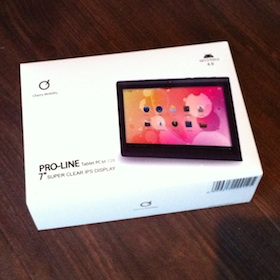 Computing is getting cheaper and cheaper. I was walking in the streets of The Hague and noticed an ad at the local drug store (Kruidvat) for a 99€ Android 4 tablet. A 1.2Ghz A8 ARM Cortex processor, a 7" capacitive multi-touch IPS screen, a gig of RAM and 8 gigs of flash — all in an alu-body. The Cherry Mobility M-728 7" Pro-Line.
I'm of course a die-hard Apple user, but I couldn't pass on this opportunity for an experiment. These are some very impressive specs for this price!
Continue reading How good can a 99€ Android 4 tablet be?…