Saturday June 23 2012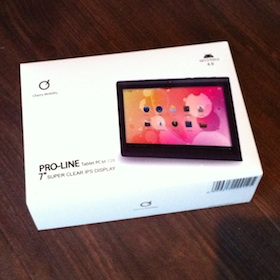 Computing is getting cheaper and cheaper. I was walking in the streets of The Hague and noticed an ad at the local drug store (Kruidvat) for a 99€ Android 4 tablet. A 1.2Ghz A8 ARM Cortex processor, a 7" capacitive multi-touch IPS screen, a gig of RAM and 8 gigs of flash — all in an alu-body. The Cherry Mobility M-728 7" Pro-Line.
I'm of course a die-hard Apple user, but I couldn't pass on this opportunity for an experiment. These are some very impressive specs for this price!
Unboxing
Out-of-the box I'm greeted with some very 'creatively' written Dutch literature, some USB cables and a headset reminding me of the free ones you get in the plane. Definitely not an Apple experience. But then again, we're talking less than 100 euros here.
Build quality
The tablet itself has a pretty solid feel, thanks to the alu enclosure. No plastic in sight. I wish they would have made a few small design changes — for instance, change a few ratio's here and there. This wouldn't increase the price, but it would have given the device a much cleaner look. Of course, you can say this for most consumer hardware out there. All in all I was pleasantly surprised with the build quality of this little machine.
The screen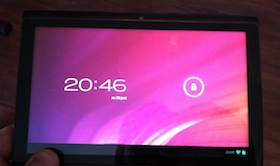 Tablets are all about the screen. What could a 99€ tablet offer? The 7" screen has a resolution of 1024*600 with a decent color gamut. Android apps seem not to expect this resolution, so many apps have some artifacts like part of the display missing or some images are disproportionally stretched.
The screen has a great viewing angle — comparable to the iPad. The display is evenly lit, but the left edge of the display the screen is a bit darker/more yellow than the rest.
The glass cover of the display initially has a weird rough feel, but after a few minutes of use, greasin' it up, this goes away. The touch response is laggy — I think about 100ms at least.
Software
Software makes or breaks any device. The Cherry is pre-loaded with Android 4.0.3. Being not used to Android, I encountered some 'huh?' moments:
It took me some time to find the applications menu. I was expecting to find all apps on the home screen. You can find the applications menu using a completely unexplanatory icon of 3*2 squares at the top right. I don't understand why this is separated out — especially since apps you get from Google Play get placed on the home screen by default.
After turning off vibrate-on-touch, I noticed that some apps still vibrated when I touched the keys. Apparently there are two settings for this (one system-wide and one for the installed keyboard) — weird!
The design language of Android 4 is very very implicit. I do like the white on black look of most widgets, but the choice of icons and the lack of textual description is sometimes maddening: the three dots icon means a context menu? I'm not a fan of all the skeuomorphs Apple is using, but this is not the right way.
On the other hand, I am happy to find that many actions are hardware accelerated. Things like swiping on the home-screen are pretty smooth. The font rendering is quite good too. And a game like Fruit Ninja runs fluently — save for the touch lag. Also, video is hardware accelerated, so watching YouTube video's in full screen is no problem! The Cherry has a HDMI-output as well, but since I lack a mini-HDMI cable I haven't tried this yet.
The web browser is slow, but usable. After initial rendering of the page, it takes a few seconds before you can start scrolling on the page. Scrolling itself is smooth, but a bit unresponsive. The rubber band effect — due to touch lag — is annoying. Tactility is not what you should look for with this device. But, pages seems to render correctly in general. So hey, a web capable device for 99€! That's something to be excited about.
So what's next?
Generally speaking, this is a very capable little machine for the money. It does suffer from some other (fixable) problems:
It seems to charge very slowly. The forums suggest to use a different

USB

cable than the one supplied. I've noticed that the device only requests 500mA right now.
It seems to miss quite a few apps in the Google Play market place. According to the forums this can be fixed by installing a different firmware.
Wifi is a bit spotty. It lost connection a few times. Again, according to the forums this can be fixed by opening up the device and changing the orientation of the Wifi antenna.
I have no problem with hacking around a bit — but for the general populace this is not really suitable. All in all I think you cannot expect to get a good tablet for 99€ yet, but with some tinkering you do get a fun, but bit quirky, machine.
But consider — if you're living on welfare or have a low income then this tablet gives you a very enjoyable and usable access to the internet — for an affordable price. You then just need a friendly wifi-access point in the neighborhood (open up your wifi people: consider it community service).
Now to get some synths running on this thing! :)

Like it? Tweet this