Saturday March 8 2014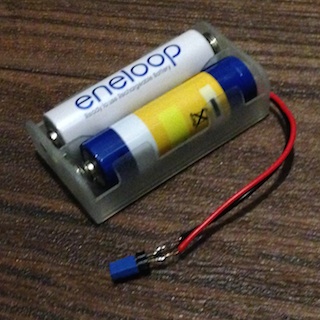 TL;DR: use a regular alkaline AA battery to give your NiMH cell a boost for a little while — it will pull it over its dead zone.
In my Wii controllers I had a bunch of rechargeable AA-batteries sitting unused for more than a year. Completely empty of course, and most of them wouldn't charge at all anymore. My charger just blinked in error, and two of them didn't even register at all. Multimeter to the rescue, and of course their voltages were extremely low, some even under 100 millivolts. What a waste!
These were a bunch of relatively expensive Sanyo Eneloop batteries (2700mAH), shame to throw out. Reading a bit there are a couple of different theories on how to proceed. From removing 'dendrites' by zapping them with a car battery, to using an antique NiCad AA charger (battery cooker) or using a lab PSU with variable voltages and amperages.
Hm, neither of these I have lying around here. But the basic trick seems to be to just force some electrons back in — so a battery holder, the dead NiMH and a fresh alkaline AA (reversed) and about half an hour later the NiMH is 'reconditioned' and charging again. Hurray! Can it be any simpler?
The big question is of course how much capacity they still have! I'll update this post with that tidbit ASAP.

Like it? Tweet this